The Pozi.tech SmarTray™ system is a smart storage solution integrating identification and positioning. Backed by the SmarTrace positioning infrastructure, it makes material handling processes transparent and open to optimization.
SmarTray containers provide real-time position and payload data to the Pozi system. Goods or parts are accurately traced without being monitored individually but by following the tray that carries them. Pozi system gives up to date information on any unique handled item's position all the time.
The SmarTray solution can be used for existing storage systems, but the services are best utilized using integrated SmarTray containers.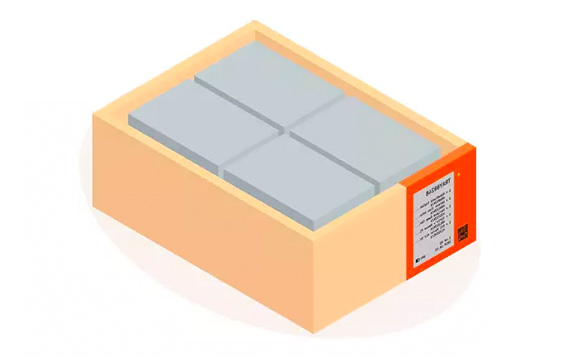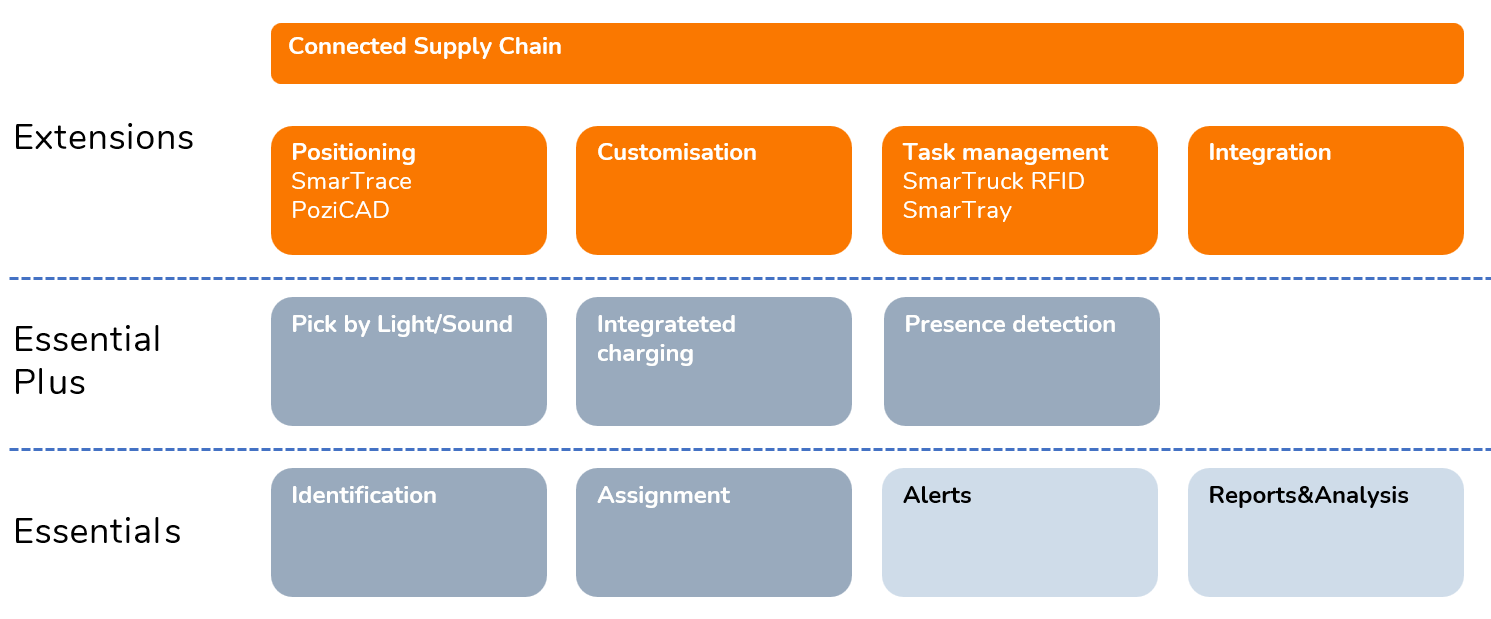 SMARTRAY
SmarTray Essentials
Identification: Individual items can be individually identified even on one storage unit with different technologies (Bar Code, QR Code, RFID tag, BLE tag, UWB tag)
Assignment: The units and goods placed in the storage can be easily assigned to the container with the help of a bar code terminal, and the assignment can be canceled when the item is removed
Alerts: Configurable email/SMS alerts for various events concerning containers
Analytics: Advanced data management and visualization, statistical, analytical and reporting system
SMARTRAY
SmarTray Esentials Plus
Pick by Light/Pick by Sound: The storage units can be addressed remotely via the network, they help to find them easier with light and sound signals.
Integrated charging: Continuous charging of the trays is ensured with the help of the charging station. We provide a wireless charging station for existing storage systems.
Presence detection: By installing cost-effective BLE capabilities, all containers in the given warehouse area can be automatically traced.
Wireless operation, convenient charging
The SmarTray™ features a built-in rechargeable battery that provides energy for months of autonomous operation on a single charge.
A standard pallet sized charging station in a rugged and stable construction holds up to 48 trays in a stack. The charging goes cable-free as the lower trays connect the overhead one to the station.
An optional high capacity battery add-on to the charging station allows establishing a temporary charging stance. Adding a scale in addition to the charging station turns it into a weight checking point while charging goes on.
SMARTRAY
Positioning Extension
Continuous, automatic tracking of containers physical position with presence detection or coordinate mindoor positioning
Presence detection: proximity positioning with UWB / BLE / WiFi technology
Coordinate-level indoor positioning with UWB technology using a built-in infrastructure
All movements are continuously logged, current position and route traveled can be tracked on a map
Indoor container tracking with SmarTrace indoor positioning infrastructure
Management of RTLS services in the PoziCAD applicatio
The SmarTray™ is available in 12 sizes, but it can gain any size, shape, and interior partitioning upon request.
The system can address a tray's each partition separately; therefore, a single tray can carry even a dozen of different parts supporting assembly work or commissioning.
The light, stable, and durable trays are made of EPP, with comfortable carrying handles, and crabbing profiles for secure stacking.
Upon special request, by building in the standalone SmarTray™ module, existing containers can gain smart features.
Allocation and control of various material handling tasks
Manual or automatic task assignment directly from the ERP / WMS system, the list of waiting picking and storaging tasks displayed on the terminal
Demand-driven task assignment via pushbutton unit: clear and traceable fulfillment
Prerequisites & Opportunities:
Customization of software

Specific software for costumers by SSDev (Sponsored Software Development) services
Interfaces: Data transmission to/from any common external ERP / WMS system
RFID: Can be applied combined with Pozi.tech ITS solutions
SMARTRAY
Connected Supply Chain
A solution can be applied along entire supply chains, if the system is applied at all levels of the supply chain. With the help of the Connected Supply Chain structure, supply chain management can be built on real-time data in the entire supply chain.
Pozi allows companies to extend their control of processes beyond their own boundaries, providing automated real-time process moni­toring throughout the entire supply chain, from raw material all the way to the customer.
Platforms
The Pozi.tech SmarTray system can be made part of any Pozi.tech sector platform in which the support of logistics operations is the goal, accordingly the solution is available in the following platforms:

Pozi.tech Warehouse Logistics Platform
Read more

Pozi.tech Production Logistics Platform
Read more

Pozi.tech Agro-Monitoring Platfrom
Read more