The Pozi.tech SmarTruck™ system provides real-time information on the utilization, activity and status of forklifts and other material-handling vehicles involved in production or warehousing processes.  
The system makes product-handling processes and resources transparent and allows for the analysis thereof, facilitates efficient resource planning, improves the capacity utilization of vehicles, reducing operative costs and allowing for the improvement of logistics performance and accuracy.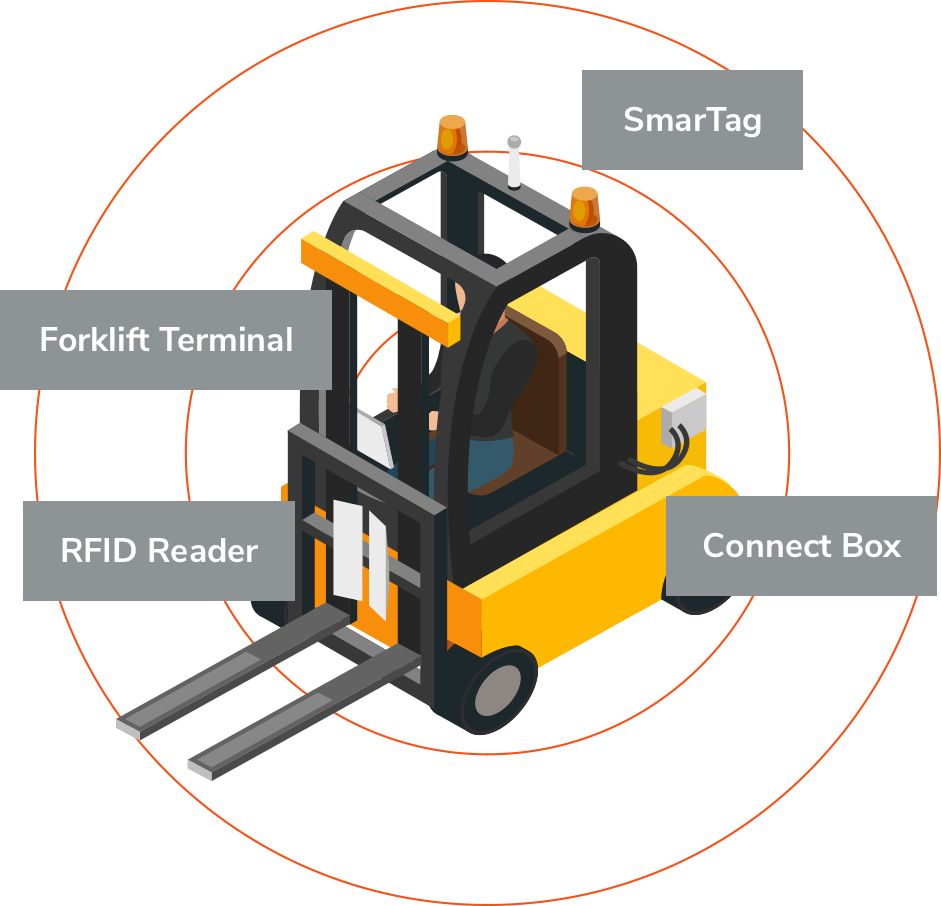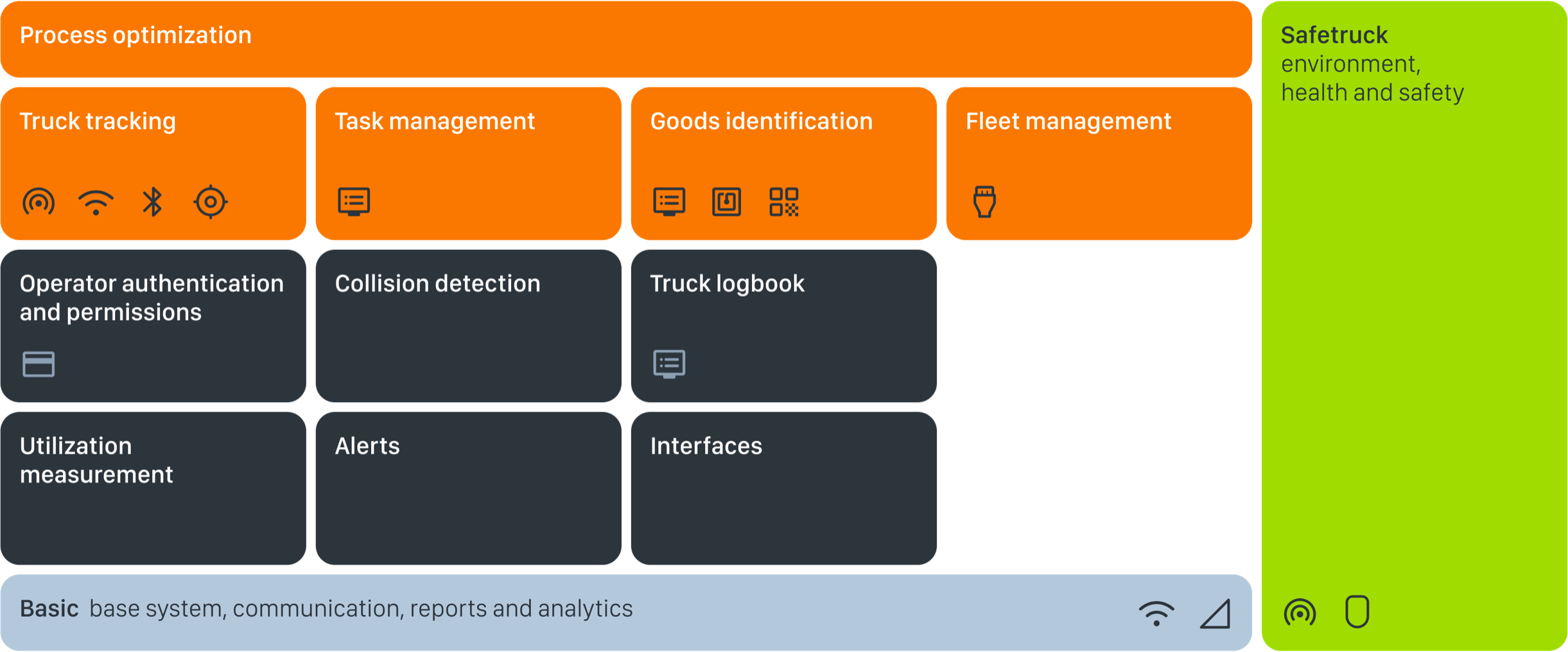 SMARTRUCK
Basic Functions
Basic
Base System:

The backend system of SmarTruck solution, responsible for the processes of data collection and datprocessing

Communication:

Interchangeable module with WiFi or 4G data connection on request 

Analytics:

Advanced data management and visuali-zation, statistical, analytical and reporting system
Utilization measurement
Reports on forklift utilization (individual and fleet level), calculation in daily/weekly/ monthly breakdown, identification of peak periods 
Alerts
Configurable email/SMS alerts for various events concerning forklifts 
Interfaces
Data transmission to/from any common external ERP / WMS system 
Operator authentication & Permissions
Forklifts can be started only after driver authentication via access card. Card types can match the type used by the company. 

Operator permissions are checked at each authentication. The range of driveable types or specific vehicles can be individually set. 
Collision detection
Collisions identified with built-in accelerometer are logged, alerts sent and truck functionalities can be limited if required
Forklift logbook
Technical assessment of trucks by the operator and filling in the forklift logbook can be mandated periodically.
SMARTRUCK
Forklift Tracking
Continuous, automatic tracking of trucks' physical position with presence detection or coordinate positioning, both outdoors and indoors
Presence detection: proximity positioning with UWB / BLE / WiFi technology
Coordinate-level indoor positioning with UWB technology using a built-in infrastructure
Outdoor positioning with GPS and precise RTK technology on request
All movements are continuously logged, current position and route traveled can be tracked on a map
Prerequisites & Opportunities:
Indoor forklift tracking with SmarTrace indoor positioning infrastructure
Management of RTLS services in the PoziCAD application
SMARTRUCK
Task Management
Allocation and control of various movement tasks
Manual or automatic task assignment directly from the ERP / WMS system, the list of waiting tasks for the truck is displayed on the on-board terminal
Demand-driven task assignment via pushbutton unit: clear and traceable communication between line workers and trucks
Complete with Goods Identification and Forklift Tracking extension, the system helps the operator with alerts to perform tasks accurately
Prerequisites & Opportunities:
Customization of software
Specific software for costumers by SSDev (Sponsored Software Development) services
SMARTRUCK
Goods Identification
Identification of the goods on the fork of the truck and display of their data on the on-board terminal
Manual identification by manually scanning the QR or barcode printed on the goods
Automatic identification using the RFID tag attached to the goods and the RFID antennas and RFID reader mounted on the truck
Goods Identification combined with Forklift Tracking extension allows passive positioning of goods and automatic logging of movements
Prerequisites & Opportunities:
Automatic identification requires the installation of the SmarTruck RFID hardware
The system can be combined with the Pozi SmarTray smart packaging system
SMARTRUCK
Fleet Management
Accurate statements of all operating and maintenance costs for the entire truck fleet: consumption, service and parts costs, etc.
Detailed and accumulated cost data per truck and per entire fleet
Full maintenance and service log, forecasting of maintenance due
Optional direct connection to the truck via the ConnectBox CAN bus interface
Detailed statistics supplemented with current (speed, fuel / fuel level) and operational (operating hours, fault indications) truck data
SMARTRUCK
Process optimization
Optimization of goods handling and picking tasks along predefined decision algorithms
Optimized task execution allows fast, accurate and efficient collection and delivery of goods
Optimization parameters: current position of each truck, task list, pick lists and the position of the goods on the list, current status of the mobile shelving system and additional parameters from the ERP / WMS system
Prerequisites & Opportunities:
In the case of large systems, optimization capabilities are developed in the context of individual development projects
Platforms
The Pozi.tech SmarTruck system can be made part of any Pozi.tech sector platform in which the support of logistics operations is the goal, accordingly the solution is available in the following platforms:

Pozi.tech Warehouse Logistics Platform
Read more

Pozi.tech Production Logistics Platform
Read more

Pozi.tech Agro-Monitoring Platfrom
Read more